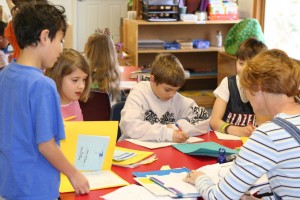 Carol's Summary:
Beverly Woods Elementary school was recognized last year as a "National School of Character" by the national nonprofit Character Education Partnership for their character program. The school's success has school officials wanting to spread the program statewide. At Beverly Woods, teachers select a group of 4th and 5th graders to be peer-mediators to solve conflicts between two people or small groups. After the session, the mediators respect the understood confidentiality and shred all paperwork linked to the session. Peer-mediation is usually a method used in middle or high school, but educators at Beverly Woods strongly believe their students need to learn conflict-resolution skills now so they are prepared to deal with the bigger issues they will inevitably encounter in 6th-12th grade.
Character programs are being placed in more and more schools to reduce discipline problems and bullying and encourage students to advocate for themselves. Systemwide, North Carolina schools choose to focus on one character trait for a month, such as respect, responsibility, and honesty studied so far this year. However, each elementary school has the freedom to implement the program in the best way they see fit for their individual school.
Technology has done amazing things for the student, like give them more information at their fingertips than ever before, but it has also caused new problems other generations haven't had to deal with like cyber-bullying and the disconnected communication carried over social networking, texting, and IMing. Character education breeds a human connection that has become so rare, and builds a safe community only achieved in a physical environment that encourages interaction between peers. LifeBound helps students become emotionally intelligent through developing specific skills to learn about themselves, understand peers' actions, strengthen their ability to make friends, and manage stress in People Smarts for Teenagers. For more information, please visit our website.
Article: Character program may go statewide

Officials from the North Carolina Department of Public Instruction recently observed – and applauded – Beverly Woods Elementary's Character Education program and would like to find ways to expand the concept to schools throughout the state.
Related Posts via Categories