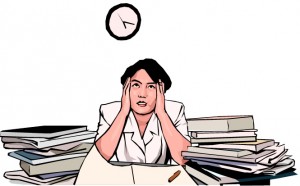 If you know a college student or new college graduate, you've probably had a conversation with them that revolved around their anxiety in finding full-time employment in their field. And rightfully so. The correlation between a college degree and a high-salary job are a lot more uncertain than in the past. Unlike generations before them, a degree is no longer the final step before setting forth on a career path.

While some graduates still able enter the workforce with a degree and a high-salary job, Â the reality is that 44% of young college graduates in 2012 were "underemployed", or rather working in jobs that did not require a college degree, according to the new report, "Are Recent College Graduates Finding Good Jobs?".
In the Atlantic article 'The Growth of College Grads in Dead-End Jobs", Jordan Weissman explains that this number is not much different than it was in 1994, however, the definition of "underemployed" has changed. In the 1990s, an underemployed college graduate might find a job as an administrative assistant bringing home a $40,000 salary. Today's underemployed graduates are more likely to be working as dog walkers and baristas, and are bringing home closer to $20,000.
It's a new world for new grads, but they are prepared to hit back hard with unwavering optimism. Jobs may be scarce, but they're there. We may be hurting from a recession, but it's turning around. There may be less high-paying career paths to set out on, but there are more entrepreneurs, innovators, and social movements for change. If millenials can be optimistic, is there any reason we shouldn't be?
Related Posts via Categories