Agnes Zhelesnik is a preschool teacher making headline news for being the oldest teacher in the country. At 97-years-old, Zhelesnik teaches preschool at Sundance School in North Plainfield, New Jersey Monday-Friday from 8-4. She started teaching 15 years ago at the age of 82 after her husband of 61 years passed away.
Zhelesnik is known as Granny to the kids, teachers and everyone else at the school. Sundance School founder, Ginny Tobey says she believes Granny's success at the school feeds both ways. Working with kids gives her energy and she returns the favor with love.
Watch the Associated Press' coverage of Granny baking banana bread for her class in the video below.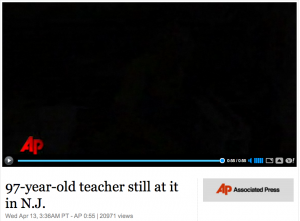 Related Posts via Categories