Erik Demaine was home-schooled by 7, earned his bachelor's degree by 14, and now at 29 years old is an associate professor at MIT. His critical and creative thinking abilities launched him through his education and along the way he left 3D mathematical art allowing us a unique look inside the mind of a mathematician. Have you ever wondered how to fold a polygon into a convex polyhedra and unfold to the reverse? Erik has. Click below to watch the Metamorphosis of the Cube.
Erik also shares his interest in puzzles and games by providing "folding puzzles" on his website, www.erikdemaine.org/puzzles. Can you turn the below 6-sided star into a complete beaver? Click on the picture below for a free print out.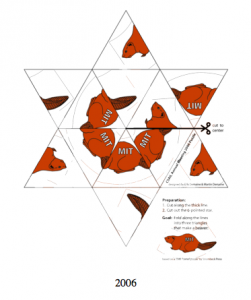 LifeBound helps teenagers by addressing problem-solving techniques, imagination building activities, self-evaluation techniques, and more in CRITICAL AND CREATIVE THINKING FOR TEENAGERS. For a free sample chapter, click here. To learn more about Erik, visit his website www.erikdemaine.org.
Related Posts via Categories