Back in 2008, students at the Ron Clark Academy became overnight celebrities after their politically-themed rendition of T.I.'s "Whatever You Like" attracted milliions of views on YouTube.  The students, who penned the song "You Can Vote However You Like" to emphasize that voters should choose a candidate based on their political opinions and not on their race, were famous for their singing, dancing and rhyming skills.
Beneath the surface of this story lies an important lesson that has nothing to do with elections, rapping or YouTube.  Ron Clark, winner of a Disney Teacher of the Year Award, sets high expectations for his students – in terms of behavior, academic engagement, global awareness, creativity and post-high school plans.  By engaging his students and exposing them to a wide array of experiences and teaching methods, Clark has molded inquisitive, informed, globally aware young citizens.
Ron Clark Academy's unique, creative, college-focused culture is a model for other schools around the country.  The school's teacher buy-in is exceptional: instructors mold their lesson plans to promote "education, solid values, and a passion for learning" in every subject.
As you watch the YouTube video below, consider the results if this powerful model were implemented across the country.  What sort of improvementss would be possible if every school set – and supported – such high expectations and discovered such creative ways to engage their students in interactive learning?
Click here to watch the YouTube video.
YouTube Student Stars Still Rapping to Learn
By Dana Rosenblatt
ATLANTA, Georgia (CNN)– Seventh graders at Ron Clark Academy became an overnight sensation during the presidential election when their YouTube performance of "You Can Vote However You Like" catapulted them to online stardom.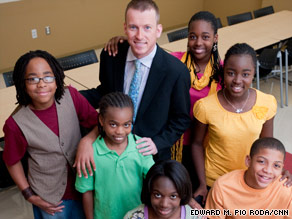 "The higher the expectations, the higher the results," says Ron Clark, seen here with his students.
Now, their creative and scholastic talents have proved the students to be more than just "one hit wonders."  Academy students showcased their poetry and writings for CNN's documentary "Black in America 2," hosted by Soledad O'Brien.
Cultivating student creativity is just one of the goals of academy founder Ron Clark, an enigmatic educator known for his unconventional teaching methods.
Under his strict tutelage, students at Ron Clark — who are predominantly African-American — are expected to excel in all subjects and maintain a high standard of respect for their peers and teachers.
"I'm teaching an eighth-grade curriculum to fifth-graders," says Clark. "Some people say my expectations of the kids, academically, is too high, but the higher the expectations, the higher the results."
But with high academic expectations come an equally high quotient for fun.
Related Posts via Categories