FACT: By 2014, 81 percent of post-secondary students will take some or all of their classes online.
Technology is changing the way we work, communicate, travel, buy, consume, read, gain knowledge, and how we educate our children. It's imperative students learn technological and online skills in school and at home. Did you know sixty-five percent of grade school kids will end up in jobs that don't even exist yet?
The education world knows this, and we are seeing the beginning of an education overhaul that's bringing more students to the screen and away from the old classroom model. Digital learning can be cheaper, more accessible, and more engaging for a student than a classical classroom setting. But just because technology is inching into the classroom doesn't mean it is going to completely take over. Technology is especially beneficial when it can enhance a classroom with living and breathing instructors and students, and is further desirable because it is cheap, accessible, and engaging. Digital textbook sales are projected to grow substantially.
Click on photo below to enlarge.
Parents, educators, students, policy makers, anyone who's been in a classroom knows, one-size-fits-all classrooms aren't as effective as the classroom that caters to different learning styles. Technology makes classroom customizations for individuals plausible.
Click on photo below to enlarge.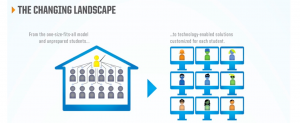 Do you think technology integration is inevitable? What is the most important skill you think the next generation of workers will need to succeed? Share in the comment box below.
Resource:
All pictures came from Knewton's"The State of Digital Education Infograph." See the full chart at http://www.knewton.com/digital-education/
Related Posts via Categories