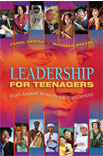 The recession has many people questioning the skills of business leaders and politicians today and for the future. According to IBM's 2010 study, "Inheriting a Complex World: Future Leaders Envision Sharing a Planet," only 4 out of every 10 students surveyed believe their education is preparing them to address global problems as the next generation of leaders.Where would we be if it was a requirement for leaders to refine their ethics, values, and creative thinking skills? After experiencing the effects of our leader's bad decisions and our own financial negligence it's easy to see that great power isn't synonymous with a great leader.
In the Chronicle for Higher Education, history professor, Richard Greenwald questioned the lack of leadership programs being taught at the college level. He made the point that the world of work is shifting and the next workforce generation will have more freelancers and a variety of jobs that will require self-direction. But why wait until college to start developing leadership skills? Early exposure can prepare high schoolers for leadership roles they will need to secure in college to advance with all the skills they need to fill an impressive portfolio for the workforce. Â Additionally, their leadership contributions can greatly enhance their high school experience as well as their college applications.
Students throughout their schooling career are often told to be leaders, yet rarely taught how. LifeBound's interactive book, Leadership for Teenagers, identifies skills essential for leadership and offers students tactical steps to assess and apply these skills to their own lives, to roles in their schools and community, and to complex global problems. The book features leaders from across the disciplines and from a variety of cultures that challenge conventional ideas about what leadership is and how it's best executed. In a rapidly changing world, the future and sustainability of the planet depends on harnessing the power and leadership potential of today's students and tomorrow's leaders.
Students will develop leadership skills through:
Analyzing historical leaders with contemporary leaders.
Developing a vision and seeing their possibilities.
Cultivating problem-solving skills.
Understanding what it takes to earn and give respect.
Communicating clearly, effectively and passionately.
Mobilizing high-performing teams on the field, in the classroom, and in the community.
Defining personal values and lead with integrity.
Kitty Thuermer, director of publications for the National Association of Independent Schools says, "Just as Howard Gardner promoted 'multiple intelligences' this book tackles multiple leadership styles, which is great—especially with the message that leadership can take many forms that we don't normally recognize.  Whether teens are taking steps to self-lead and manage their personal lives, or rally support for initiatives with global impact, LifeBound's book prepares them to stand strong and make a difference." We can't expect to find leaders in the future if we aren't teaching them the skills to succeed today.
Related Posts via Categories