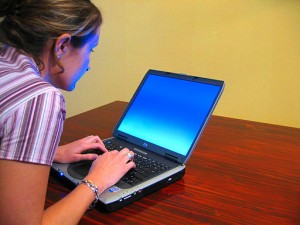 As more students are required to own a laptop, iPad, Kindle and other electronic devices for school, a debate has opened between educators and parents on whether technology in the classroom is harming or enhancing the learning environment. On one hand, parents and educators are concerned with possible long-term side effects, like vision problems and neck strain from leaning over devices. On the other hand, parents and educators support the use of integrating technology into the lesson plan to give students computer skills they will need in the working world.
In yesterday's post, "New College Grads Create Their Own Jobs in Bad Economy," we discussed the rising trend of young, digital-minded graduates becoming entrepreneurs in a competitive workforce. The next working generation, and those that follow, are at an advantage because they are — in Anthony Salcito, vice president of Microsoft Education's words — "digital natives." They are wired to create new jobs with virtual creativity, work on a virtual team, communicate through online networks, and send and receive information at top speed.
When parents want to get involved in the student's life, technology can be seen as a barrier from allowing that to happen. Just like any other tool used in the classroom, technology has a time and place. Use computers to teach basic computer skills, like word-processing, research and email. Prepare a lesson using hands-on materials, like paper or props and enhance it with a video or other digital media. Parents and educators shouldn't feel threatened by technology in a student's education. Technology is the tool to keep students current and prepared with skills for higher education, career and life.
- Read the referenced article "The Great Parenting Debate: Should School Kids Rely on Computers?" at foxnews.com
Related Posts via Categories